We began researching and testing various ideas and eventually created a signature recipe for our own homemade soap. After having used it ourselves and loved it, we decided to share this new found treasure with you.
Using the highest quality oils, fragrances and only distilled water, we have created what we believe to be the perfect compliment to your skin.
What we offer
Everything we at Heartfelt Treasures produce is homemade. We believe highly in the satisfaction of our customers. Special care is taken to ensure that you are receiving the very best.
Although Heartfelt Treasures specializes in soaps, we also delight in making high quality lotions, lip balms, bath salts, and bath bombs in a wide variety of fragrances to suit your individual tastes.

Who We Are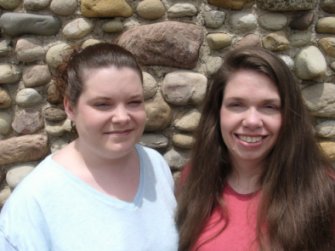 Gena Schank and Stephanie Somers pictured to the left are sole owners of Heartfelt Treasures. Not only are we business partners, we are family. With the trials and tribulations we have journeyed through together, we are also close friends. We look forward to hearing from you (via contact page) and hope you enjoy browsing through our site.
Our Guarantee
We are confident that you will love our products. In fact, we guarantee you will. If for any reason you are dissatisfied with your purchase, just return the unused portion along with your receipt for a complete refund, less any shipping you might have paid. That's our promise to you.